The new Netcash Converter is the fast, easy and safe way to convert and upload all your Payment and Collection batches to Netcash.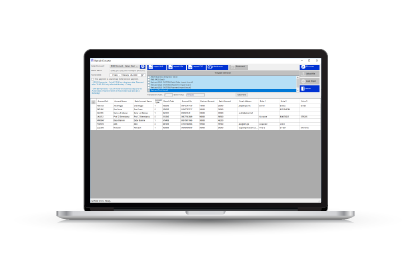 The Netcash Converter allows you to convert your data into a Netcash file format suitable for uploading to your Netcash account. Imported data will display any errors and allow for bulk amendments or individual editing. Volume of transactions and total batch value is displayed for easy comparison to original data. A single click is required to upload your file, ready for authorisation online in your Netcash account or from within the converter.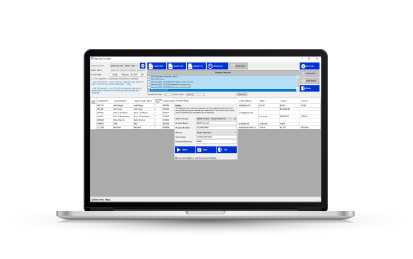 Once your Netcash credentials have been inserted into the converter , they are securely stored on your local device in an encrypted database. This allows you to securely login to your Netcash account from within the converter – no need to access via your browser.
Create upload templates for any of your current batch files. The flexibility of the Netcash Converter allows for importing of Microsoft Excel (.xls/.xlsx), Delimited CSV (.csv) as well as text (.txt) files. Templates are simple and easy to create and there is no restriction on the number of templates created, allowing for easy access and uploading from multiple sources and formats.

"The Netcash Converter is so easy to use. What used to take 2 hours of work is now done within a few seconds!"
Engela van den Berg | KGA Life
Download the Netcash Converter for Free!
Included in your converter are the following services:
Validation of bank account numbers according to each bank's validation rules
Account Verification service (bulk uploads)– check ID number to bank account to verify owner
Payment file uploads
Debit order file uploads
Pay Now – Payment request file
Netcash statement download – choose your export format
Unlimited Netcash accounts and sub accounts
Securely access to your Netcash account from within your Netcash Converter
Unrestricted number of installations/PC's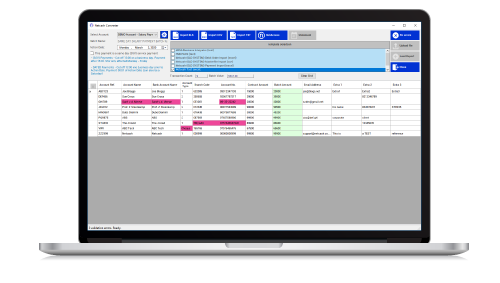 If you have already downloaded the Netcash Converter read the quick start guide on how to use it.
Frequently asked questions
Yes, you can install the converter on as many computers as you like. It is free to install. No hidden costs.
Netcash Converter works by importing a data set in any of the following formats
 Microsoft Excel 2007 (or later) .xls / .xlsx
Microsoft Excel 2007 (or later) .csv
Flat / Text files .txt
The converter will create and securely transmit the following file formats:
Netcash Debit Orders
Netcash Salary Payments
Netcash Creditor Payments
Netcash Bank Account Verification
Netcash Validation Files
Netcash Masterfile Updates
Netcash Statement download in any layout you require
The Netcash Converter does not support the transmission of any card (Debit / Credit Card) data due to PCI regulations -and compliance.
The converter uses the latest security standards and SSL secured (https://) web service protocols to transfer data. Your Netcash system -and service key details are stored locally on your PC, in an encrypted database file and can be reset at any time.
Support is available in writing to support@netcash.co.za or by dialing 0861 338 338 during ordinary business hours. Please include detailed specifics -and where possible a screenshot of the issue you might encounter.
We are constantly updating the Netcash Converter as new services and technology becomes available. Although this should never affect your current version; you are welcome to update of your current software to the latest version directly from our website.
Chat to us
Complete your details and one of our Technical Support staff
will be in contact with you shortly.